Are you hungry? The Good Luck Grill is one of the best restaurants in Manor, Texas. Our customers say that we make the best burgers, catfish, and chicken fried steak around. Our menu has something for everyone from grilled shrimp and chicken to a variety of cheeseburgers, fresh salads, and appetizers like fried green tomatoes and fried pickles. Be sure to try one of our tasty desserts like our signature three-layer chocolate Jackpot Pie. Our casual dining counter-service restaurant is a short drive from Austin. Our country landscape makes for a great backdrop for a family outing or your next special event. We cater on-sight and within a 20 mile radius including Austin, Manor, Elgin, Pflugerville, Round Rock and Taylor areas. Our friendly staff will be looking for you! Come enjoy our delicious food, country charm, great sunsets, outdoor patio, children's playscape, washer pits and live music.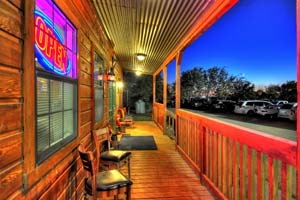 Regular Hours
Fri & Sat 11:00am - 9:00pm Sun-Thurs 11:00am - 8:30pm Winter Hours do apply during Daylight Savings Time.
Upcoming Events
Jimbro's Ladies Night 3/11 6-8:45pm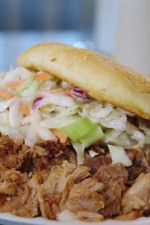 Tender pork grilled with BBQ sauce topped with crispy coleslaw on a corn dusted bun.
Testimonials
"Whatever you do, don't pass this place up because you would be missing out on some of the best burgers, catfish, and chicken fried steaks in the area. It's well worth the drive out to the Good Luck Grill if you are not in the area. Or try to fit it in along the way on your next road trip adventure. You will be happy you did."
-James H.
"I am a big Chicken Fried Steak connoisseur and after trying the Good Luck Grill for the first time last weekend, I am proud to say that I have found a new mecca for my favorite food! The steak was perfect and the breading was perfectly seasoned too. "
-Brad L.