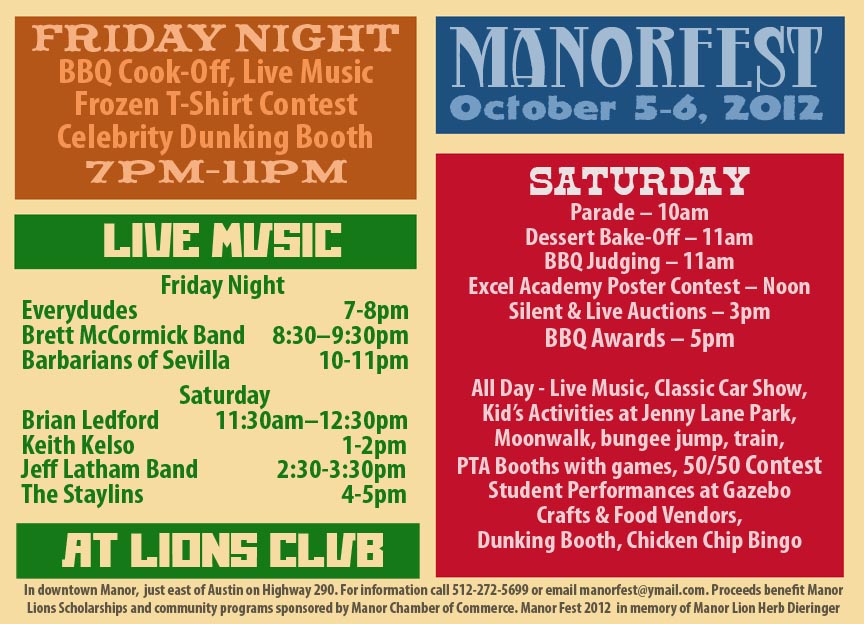 As reported by the Blackland Reporter: http://blacklandreporter.com/2012/09/22/21st-annual-manor-fest-is-october-5-6-dont-miss-it/
The 21st Annual Manor Fest is coming soon, with fun for the entire family!
This year's festivities include live music, a parade, the Classic Car Show, a BBQ Cook-off and Dessert Bake-off, bingo played with a live chicken, a frozen tee shirt contest, an auction, and vendors selling a wide assortment of crafted items and food.
Manor Fest begins on Friday, October 5, 7PM at the Manor Lions Club. Live music will be provided by the  Everydudes from 7 to 8PM while the Brett McCormick Bandwill play from 8:30 to 9:30PM. Barbarians of Sevilla finish out the evening from 10 to 11PM. Throughout the evening, there will be frozen tee shirt contests and a celebrity dunking.
The Manor Fest parade starts off the Festival on Saturday, October 6 at 10AM. Vendors will also open their booths along Burnet Street at 10; their wares include jewelry, baby blankets, baked goods, candles, pom poms, koozies, and tote bags. There will be plenty to eat as well – we have kettle corn, funnel cakes, hamburgers, corn dogs, and cotton candy.
The live music lineup for Saturday begins at 11:30AM with Brian Ledford, followed byKeith Kelso from 1 to 2PM, the Jeff Latham Band from 2:30 to 3:30PM, and the Staylyins will close the music portion of the Festival from 4 to 5PM.
Jennie Lane Park is dedicated to the kids this year, featuring a spaceship moonwalk, giant super slide, trackless train, bungee trampoline, and water tag provided by Three Ring Service. There will be student performances throughout the day and PTO booths will have a variety of games.
Registration for the Classic Car Show begins at 10:30AM, and judging starts at 12:30. The show features eight classes of prizes, and the classic cars will be on display throughout the day.
BBQ and Dessert Bake-Off judging begins at 11AM and will be held in the Manor Lions Club building located at 105 East Eggleston. A poster judging contest featuring art work from Manor EXCEL Academy students will begin at noon. Sign-up sheets will be available at the Lions Club building for anyone who wants to judge any of the contests.
A wide assortment of items have been donated for the Auction, which begins at 3PM while BBQ Awards will be presented at 5PM. Both of these events will be held in the Lions Club Building.
Remember, Manor Fest is free to the public! Funds raised will support the Manor Lions Club scholarship fund, Manor Lions Club charities and Manor Chamber of Commerce community programs.
For applications to have a vendor booth, participate in the Dessert Bake-Off or have an entry in the parade, please contact the Manor Chamber of Commerce at (512) 272-5699 or by email at manorchamber@att.net. Join us on Facebook!
The 21st Annual Manor Fest is held in memory of Manor Lion Herb Dieringer.