Host your next party at the Good Luck Grill or let our sister company Catering by Good Luck bring the food to you.  You can choose from the menu or we will make something for your special occasion. We excel at catering for groups from 10-600 guest with a wide selection of choices to please both the carnivores and the vegetarians.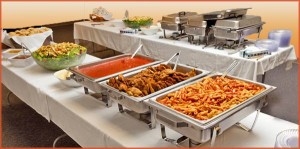 Delicious ♦ Affordable ♦ Fast ♦ Friendly
The whole idea behind comfort food is to nourish the body and the spirit – to sooth and bring cheer.  Our food is created with that in mind. When planning for your special occasion, choose from one of our customer favorites or build your own menu.  Please note that every catering is different.  We look forward to helping you design a menu that will best suit your event and allow us to provide a fresh quality meal to your attendees.
Sample Menu
 Flat Grilled Rib-eye
Baked potato
Oven roasted veggies
Rolls and butter
Homemade Pecan Pie
♦
 Chicken Fried Chicken or Chicken Fried Steak
Mashed potatoes
Green Beans
Rolls with butter
Green salad
Three Layer chocolate Jackpot Pie
 ♦
Baked Potato & Salad Bar
A meal sized Baked Potato served with all the trimmings
Butter, Sour Cream, Bacon Bits, Ham Bits & Cheese
Spinach Salad
A delicious combination of baby spinach, dried cranberries, blue cheese crumbles and toasted sunflower seeds with a Sesame Garlic Dressing
Broccoli Salad
Bite size broccoli florets and cherry tomatoes in a Balsamic Vinaigrette Dressing
Assorted Crackers
 ♦
Chicken Parmesan
Penne pasta with marinara
Italian Green Salad
A mix of spinach, green leaf & romaine with cherry tomatoes, olives and croutons
Bread Sticks
New York Style Cheesecake
 ♦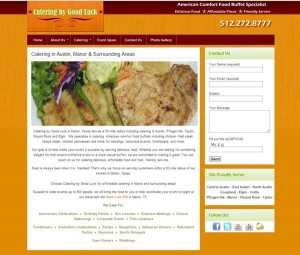 Click Catering by Good Luck for additional details.