The Good Luck Grill is a family friendly restaurant known for country comfort food.  Our tasty burgers, catfish, chicken fried steak and crispy salads are just a few of our customers favorite items sure to fill your belly and leave you plenty satisfied.  While we are well known for our fried foods – we have a nice selection of grilled items including a flat grilled strip steak, chicken, zucchini and portabella.  The menu has something for everyone including vegetarian, gluten-free and low calorie options. And, yes – we have your sweet tooth covered with sweet tea, pecan pie and our famous Jackpot Pie! Come to Manor to see what all the fuss is about!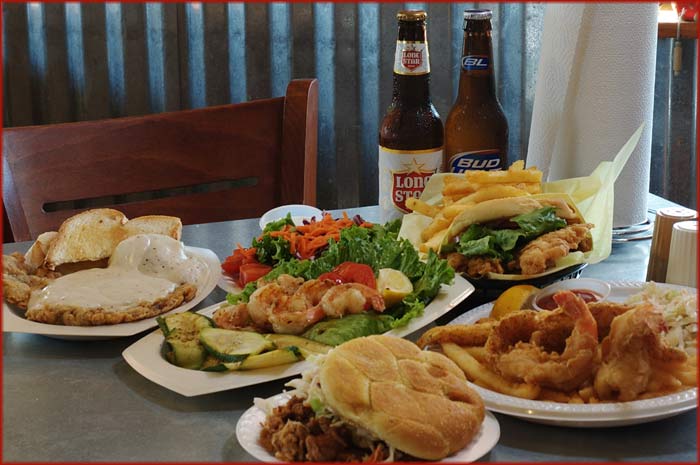 Whether you are in hurry or have time for a more leisurely visit we will be glad to see you.  We take great pride in serving you great food at a fair value in an atmosphere that is warm and inviting for the whole family.
Starters
When it comes to appetizers, there seems to be a five-way tie for customer favorite between the Fried Green Tomatoes, Fried Pickles, Onion Rings, Fried Zucchini, Fried Mushrooms and the Southern Fried Catfish Toes (can you see a theme here?), so….. why not just order the Veggie Sampler to enjoy all five with a side of our house-made Ranch dressing.  The Fried Green Tomatoes, Fried Zucchini, and Catfish Toes (Wha What? You didn't know that catfish have toes?) are dusted with a cornmeal seasoning while the Fried Mushrooms, Onion Rings and Fried Pickles are coated in a flour batter and deep fried.   If you'll come see us during happy hour you can enjoy several of our appetizers at half price!
Old Time Favorites
Calling all Chicken Fried Steak and Chicken Fried Chicken lovers!  We start with fresh beef and chicken and hand bread it in OUR KITCHEN… just moments after you've ordered it!! They are then deep fried until a golden brown perfection and topped with cream gravy.  Enjoy with fries or mashed potatoes, a side salad and Texas toast.  Steak Fingers and Chicken Fingers are also wildly popular among adults and children alike.  For something totally different try our Hawg Wing Plate.  These wings aren't from Buffalo! The Hawg Wing is a marinated bone-in pork shank and breaded just like our chicken fried steak.  It is tender, moist and so delicious.  It is served with your choice of fries or mashed potatoes, side salad & Texas Toast.
Sandwiches
The great American classic sandwich probably is not always considered a comfort food –but we think it should be!  A great sandwich is so satisfying and we have a wide variety for you to choose from. Choose from our selection of Po'Boys with your choice of shrimp, catfish or oysters, our Grilled Ham and Cheese, or the Classic BLT.  For something a little more adventuresome try the Pulled Pork Sandwich filled with a mound of grilled tangy pulled pork topped with fresh crispy coleslaw on a corn dusted bun served with a side of BBQ sauce.  YUMMY!
Low Calorie
Eating well can be a real challenge when you are eating out.  Not at the Good Luck Grill!  We make it easy.  Our menu is packed with a variety of healthy food including our Grilled Chicken Dinner with grilled zucchini and a side salad, the Gut Buster Burger, a bunless version of any of our burgers with a double portion side salad.
We offer three different salad selections all with your choice of grilled shrimp, chicken or steak or fried shrimp or chicken.  The salads are made with the freshest ingredients with one of our eight dressing selections served on the side.  For something totally different and wildly delicious try our Spinach Salad with grilled chicken, toasted sunflower seeds, dried cranberries, blue cheese and SASS sesame garlic dressing.
Gluten-Free
Hey Gluten-free eaters, we get it!  Sometimes you just want to eat the same things you did before you went Gluten-free.  Try any of our sandwiches or burgers on our Gluten-free Udi Sandwich Bread.
Vegetarian
Vegetarians will be pleased to find a variety of choice at the Good Luck Grill.  We have over five different vegetarian appetizers, a tasty Veggie Burger, the Veggie Melt made with slices of grilled fresh portabella and onions and melted provolone and a variety of fresh salads.
Dessert
Our signature Jackpot Pie is made of four layers of heavenly goodness.  Combine all four layers of the cool, crunchy, creamy goodness of pecan cookie crust, sweet cream cheese, chocolate pudding and whipped cream into one bite and you will know why we call it Jackpot Pie.  Our homemade miniature pecan pies are darn popular too!  And yes we have ice cream.  We could not call ourselves a comfort food restaurant without keeping some Blue Bell on hand.
Drinks
It is amazing how far people will travel for a glass of sweet tea!  We keep it flowing all day long.  We keep the beer cold and have a basic selection of wine and fountain drinks.
Our Kitchen
We are self proclaimed kitchen CLEAN freaks. We take your safety and satisfaction, and our reputation VERY seriously.  The kitchen is designed so that you can see our clean kitchen for yourself from the order counter and pick up window.