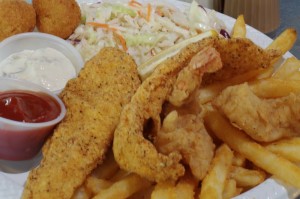 Crispy Southern Fried Catfish is considered a delicacy to some – are we speaking your language? Some of our customers admit to traveling a LONG way just to eat our Good Luck Grill catfish and shrimp as it is mighty tasty!
Our catfish is hand breaded with seasoned cornmeal and deep fried to crispy perfection.  Our homemade tartar sauce is the perfect compliment.
Do you love shrimp?  Try ours!  Our half-dollar-sized butterflied shrimp are hand breaded in our seasoned flour and deep fried until golden and crispy.  Shrimp is served with a side of our house-made cocktail sauce for dunking.
Catfish and shrimp are available in a basket with one side or on a plate with two!