Live Music at Good Luck Grill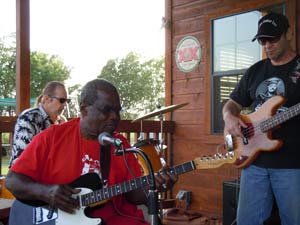 Enjoying live  music on the Good Luck Grill outdoor covered patio is a delightful way to spend the evening.  Bring a group of friends, let your kids roam free and enjoy the sounds of local bands playing old time rock and roll, rockabilly, country, and blues.
One of our most popular performers is local blues legend Hosea Hargrove.  Hosea was describe by Texas Monthly as being the real deal.   We are fortunate to be in an area where we have access to great talent.  Come see what the fun is all about!
Songwriter Saturdays
The monthly series "Jimbro Songwriter Saturday Series" is a presentation of songs of Central Texas songwriters and performers.  Each month two invited songwriting guests join Jimbro and the back up band performing original compositions. Texas is known nationally for it's songwriters and particularly central Texas. The Austin Songwriters Group includes over 200 active performing songwriters. Come out and enjoy the best of Texas songwriters.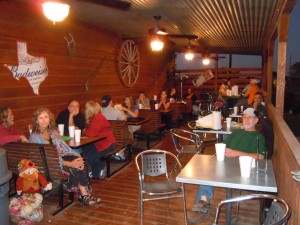 Our host is our neighbor and friend, local songwriter and performer JimBro Lutz.  His barn dances and pickin' sessions are legendary.  He knows great music which is evident in the caliber of performers and artist he brings together on Songwriter Saturdays on our back porch.
Songwriter Saturdays Spring 2015 Schedule:
Saturday, April 25th, 6-9pm
Saturday, May 16th 6-9pm
Saturday, June 20th 6-9pm
See Event Calendar below for a schedule of performances.  Click on the event for more details.