For the last eight days we have been working with the fantastic folks at Techline and Bluebonnet Electric. We have served over 5000 meals to tree trimming and power restoration crews. It has been a true pleasure to serve the people who have been clearing brush from the fence and power lines and trying to restore electricity to the affected area so the rebuilding process can begin.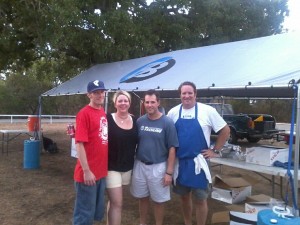 Our community has been deeply impacted by the ravaging wildfires that consumed over 1500 homes in Bastrop. The outpouring of support for the displaced and the first responders makes us proud to be American, and proves once again we are resilient and hard working community oriented people.
Bluebonnet Electric reported Saturday on their progress:
BASTROP – Bluebonnet Electric Cooperative continues to make progress restoring power to Bastrop County residents who have been affected by the fires. As of Saturday morning, the co-op reported 20 outages and 1,899 meters without power. Bluebonnet has restored power to 2,439 meters since it was cleared to enter the burn zone.
"Our crews are working 24/7 to clear trees from rights-of-way, mark trees outside our easements that could pose a danger and rebuild power lines to our members," said Mark Rose, Bluebonnet's chief executive officer. "The great news is that we have scheduled appointments with 90 members to reconnect power to their homes. We have already started working to install new meters or meter loops for 25 members so they can move back into or begin rebuilding their homes or businesses. This is how Bastrop County will recover, one home, one business at a time."
Bluebonnet has more than 400 men and women in the field working to clear trees from rights-of-way, chip and haul off the trees and rebuild power lines. There are 120 right-of-way crews, 70 chipping-and-hauling crews and 20 power-restoration crews. Bluebonnet estimates power will be restored to the last area in the burn zone Sept. 28.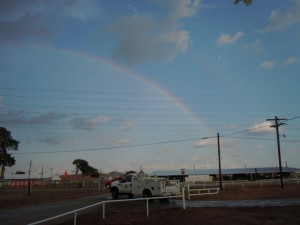 Watching the disaster response from Techline and Bluebonnet has been inspiring. We commend everyone for a job well done and extend a special thanks to our friend and customer Greg Turner for the opportunity to serve the good people involved in the restoration of electricity to affected residents and businesses.
Sunday at the end of dinner service there was a brieft shower followed by a rainbow which brought a smile to everyone's face.