Press Release 6/20/12
The Good Luck Grill (GLG) – a locally-owned restaurant in Manor, Texas- will host Nadine's 39th Birthday Bash: Forever 39 FUNdraiser, Saturday July 7th from 5:00-10:00 to honor the life of community leader Nadine Whiteley.  Nadine Whiteley was the mother of Good Luck Grill owner Shana Whiteley.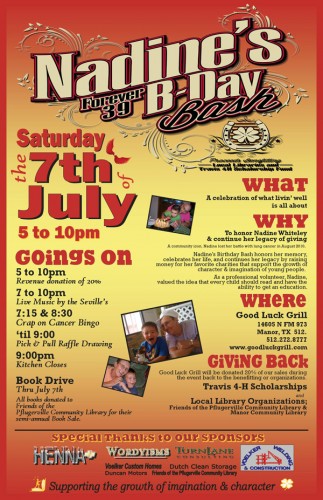 Twenty percent of all restaurant sales during the event will be donated to Nadine's two favorite charities: the Travis 4-H Scholarship Fund and The Friends of the Pflugerville Library.  This year a portion of the funds raised will also be donated to the Manor Community Library. There will be live music by the Sevilles, $2 Crap on Cancer Bingo (Chicken Poop Bingo), $1 Pick and Pull raffle items and more.
Shana Whiteley says of her mother, "Her life is a testament to what living is all about! She brought vigor, joy, common sense and compassion to all she did. My mom was aperson of extraordinary integrity and character, and someone to count on to give you the best advice and moral support.  Her life was about service to others and her community. Hosting this party in her honor would truly please her."
Nadine Whiteley lost her 30 month battle with lung cancer August 2010.  Her birthday is July 7th and we plan to celebrate in true Nadine fashion – with a sense of FUN!  Check the Good Luck Grill Events Calendar on the Live Music page at www.goodluckgrill.com for a schedule of events.
In conjunction with Nadine's 39th Birthday Bash, the Good Luck Grill is having a book drive June 22nd through July 8th.  Anyone who brings 4 or more gently used books at one time to the GLG will receive a FREE medium drink.  All donated books will be given to the Friends of the Pflugerville Library for their Semi-Annual Book Sale.
Nadine was a founding member of the Friends of the Pflugerville Library and was a driving force behind the creation of the Pflugerville Library.  In 1976 when she and her husband James moved their family to Pflugerville, there was no library nearby for their two young children to enjoy. Nadine believed that books were the gateway to the world and felt that all people should have access to a variety of books.  She worked tirelessly to make the library a reality, raising money for books, facilities and librarians.
Another love of hers was the 4-H Youth Program.  She supported her children in the Richland 4-H Club at state and national levels as a volunteer until they graduated from high school.  She then turned her attention to raising and managing money for the Travis 4-H Scholarship program.  This scholarship is given annually to deserving-college bound Travis County 4-Hers. What she liked most about 4-H was that it made learning fun and expanded young people's horizons.
Nadine was a great force within the community. She had a wonderful sense of humor and fun.  When people asked her age, she always told them with a smile she was 39. When she died, many people wanted to know how old she was.  In Nadine's spirit of fun, the family has decided to keep her secret so she can remain "Forever 39".
The Good Luck Grill opened in Manor in November 2007 with much love and support from Nadine and James Whiteley.  The GLG serves American comfort food in a casual dining atmosphere. The menu offers something for everyone from fried catfish, burgers and chicken fried steak to grilled meats and salads. The restaurant is locally owned and supports youth activities in the Manor, Pflugerville, and Richland communities.
The Good Luck Grill is 2 miles north of 290 on FM 973, less than 20 minutes from downtown Austin.  The restaurant has ample parking and plenty of room for the kids to run and play.