Good Luck Grill invites you to partner with us for our 3rd Annual Event Nadine's Birthday Bash July 13, 2013!
WHY:  To honor the life of community leader Nadine Whiteley while paying her legacy of volunteerism forward.
WHO:  Nadine was a founding member of the Friends of the Pflugerville Library and was one of the driving forces behind the creation of the Pflugerville Library.  One of her passions was access to books for all.  Another love of her's, was the 4-H Youth Program.  The things she liked most about 4-H was that it made learning fun, and like reading, 4-H expands children's horizons.  Nadine is the mother of Good Luck Grill owner Shana Whiteley.  She lost her battle with lung cancer in August 2010. During her "39" years, she instilled the importance of volunteering into the many lives with whom she crossed paths.  This celebration honors her generosity!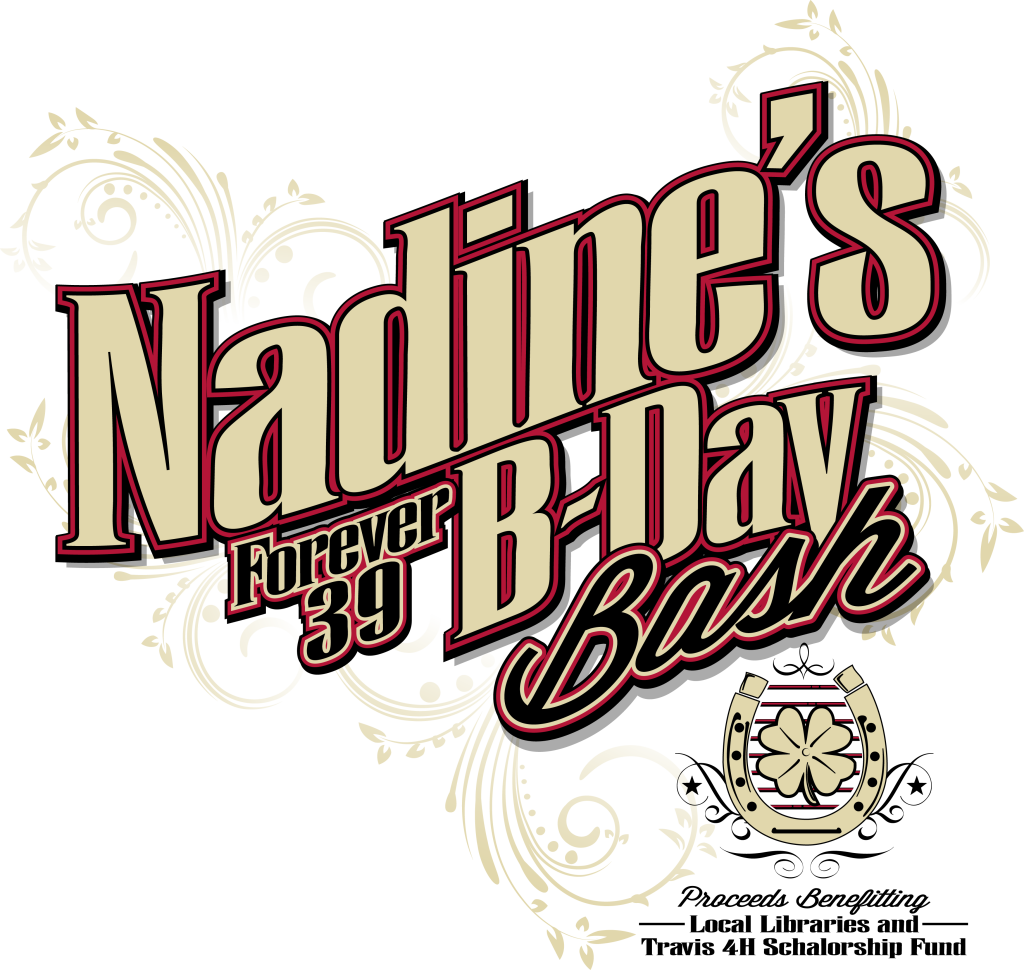 WHAT:  Help us celebrate Nadine's Birthday at Good Luck Grill Saturday, July 13, 2013.
Live Music by the Seville's 7pm  •  20% revenue donation 5-10pm
$1 Pick & Pull Raffle 7, 8 & 9 pm
HOW YOU CAN PARTICIPATE: 
Consider an advertising spot on the B-day Bash T-shirt

$100 Logo Placement or $50 Text Only Placement

Deadline for T-shirts

:  Wednesday, July 3, 2013
Send your high resolution logo file to shana@goodluckgrill.com
Make Checks Payable to Good Luck Grill with B-day Bash in Memo  
Need it to be tax deductible? Make it out directly to one of the charities below; we'll get it to them!  Mail directly, drop off at the GLG or we will come pick it up!
Donate a Raffle Item

Silly to Serious… Water Guns to Trapeze Lessons ~ We'll take it!
Join the fun on Saturday, July 13th
 Return info by:  Email, USPS mail, or call me and we'll come get it!
We will be happy to pick up your raffle item July 8th – 11th
WHERE THE MONEY GOES:  Nadine's favorite charities:
Travis 4H Scholarship Fund
 &
Friends of the Pflugerville Community Library  •  Manor Community Library
Contact us with any questions (512) 272-8777
shana@goodluckgrill.com
www.facebook.com/goodluckgrill