Creativity WANTED!
The Good Luck Grill, in Manor Texas is looking for a new T-shirt design for the summer. We want something that is fun and festive and that embodies what we are all about… Good Food, Good Fun, Good Friends, Good Fortune.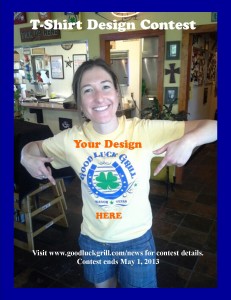 Prizes:
1st Place: $100 Cash, Two t-shirts of the winning design, $50 GLG Gift Certificate
2nd Place: $50 Cash, Two t-shirts of the winning design, $35 GLG Gift Certificate
3rd Place: $25 Cash, Two t-shirts of the winning design, $20 GLG Gift Certificate
Contest Guidelines
• Contest open to anyone who is a fan of Good Luck Grill.
• All design MUST include the words Good Luck Grill in the design
• Designs CAN include Good Luck Grill Logo
• Your design needs to appeal to a wide demographic. Our customer base is diverse.
• Designs may include line art and text but no photographs.
• Your design is for the front of the shirt and may encompass an area up to 10″ x 10″.
• Design may use a maximum of three colors.
NOTE: The design must be your own original, unpublished work and must not include any third-party logos or copyrighted material. By entering the competition, you agree that your submission is your own work.
The contest will run through close of business on May 1st. The top three entries will be chosen by the Good Luck Grill and its marketing team at Turn Lane Consulting. Those three entries will be shared with customers in the restaurant and on Facebook to help determine the contest winners.
For all the contest details please click here to download the contest rules. T-shirt Design Contest- 2013 (3)
Contact Shana at shana@goodluckgrill.com with questions.