We appreciate the press coverage received by the Pflugerville Pflag and the Blackland Reporter for Nadine's Birthday Bash.  Thank you for your support of our community.
Article from the Pflugerville Pflag http://pflugervillepflag.com/2012/07/13/whiteley%E2%80%99s-legacy-continues-via-book-drive-fundraiser/
Whiteley's legacy continues via book drive, fundraiser
Friday, July 13, 2012 | Marcial Guajardo
Longtime community volunteer honored
By Christine Bolanos
Special to the Pflag
The Good Luck Grill in Manor recently hosted "Nadine's 39th Birthday Bash" for the second consecutive year in honor of the late Nadine Whiteley, a longtime Pflugerville civic leader.
Whiteley volunteered for the Travis County 4-H and The Friends of the Pflugerville Library. The event, which included live music, food and games, served as a memorial fundraiser and book drive to support both organizations and Manor Community Library.
Twenty percent of restaurant sales during the bash went toward Whiteley's favorite charities: the Travis County 4-H Scholarship Fund and Friends of the Pflugerville Community Library.
"Her life is a testament to what living is all about," exclaimed her daughter and Good Luck Grill owner Shana Whiteley. "She brought vigor, joy, common sense and compassion to all she did. My mom was a person of extraordinary integrity and character, and someone to count on to give you the best advice and moral support. Her life was about service to others and her community. Hosting this party in her honor would truly please her."
The event brought people whose lives Whiteley touched in different ways. Some were around to see her back when she played a critical role as a founding member of the Friends of the Pflugerville Library, which was a driving force behind the creation of the Pflugerville library. Others, such as Violet Alexander, remember their children growing up alongside her children through various activities provided by Travis County 4-H, a community of young people learning, leadership, citizenship and life skills.
"She was a very strong, independent, opinioniated and great lady. She loved reading and she believed that everyone needed to read. If you got in the car with her, by the time you got out, you were going to know something new," explained Alexander.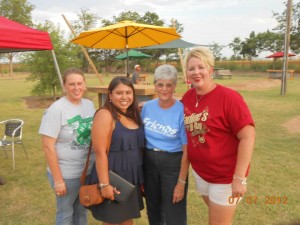 JoAnne Thornton, Pflugerville Community Library's first librarian and current vice president of Friends of the Pflugerville Library, recalls Nadine's push to get a library in the city. Though Nadine lived in Pflugerville's extra territorial jurisdiction, her children attended school at Pflugerville ISD and having an accessible library was pivotal to her.
"She was really enthusiastic and a really good worker and she believed in what she was doing it. She was always promoting [the library]," Thornton said.
The Friends of the Library Thrift Shop was established shortly after the library opened, with Whiteley operating the thrift store from 1988 to 1996. Money raised through the thrift store went toward purchasing the land for the library and toward funding ongoing operations. The store is no longer in operation, Thornton said.
Gretchen Rye was about four years old when the Pflugerville Library first opened. Now, she takes her own three children to the library.
"When I was about four or five years old, there wasn't a library in Pflugerville. We would go to the Round Rock library to check out books," Rye shared.
Her parents lived next door to Whiteley when Rye was young and she remembers sharing vegetables from each other's gardens and Whiteley's love of books.
Whiteley also loved volunteering for Travis County 4-H. She supported her children in the Richland 4-H Club at state and national levels as a volunteer until they graduated from high school. She then turned her attention to raising and managing money for the Travis 4-H Scholarship program. This scholarship is given annually to deserving-college bound Travis County 4-H members.
Her daughter, Nisha Whiteley, said her mother – who lost her battle to lung cancer in 2010 – was also known for her sense of humor. When people asked her age, she always told them with a smile she was 39. When she died, many people wanted to know how old she was. In Nadine's spirit of fun, the family has decided to keep her secret so she can remain "Forever 39".
A total of 583 books were collected for the Friends of the Pflugerville Community Library as part of the book drive. Last year's event included 400 books. Additionally, $1,434 was raised for Nadine's favorite philanthropies, an increase from last year.
Article by the Blackland Reporter 6/20/12  http://blacklandreporter.com/2012/06/20/nadines-39th-birthday-bash-forever-39-fundraiser/